The Windows 7 End of Life date has been announced: January 14, 2020 – even sooner for those who don't download a recent security update. This means Microsoft will no longer update or support the operating system after that date.
Windows 7 End of Life: what happens next?
When Windows 7 reaches its End of Life phase on January 14, 2020, Microsoft will stop releasing updates and patches for the operating system. It's likely that it also won't offer help and support if you encounter any problems.When this happens, it's open season for viruses and malware on Windows 7 laptops and PCs – Microsoft will not issue protection patches. Microsoft will only protect Windows 10, the current system.
The biggest issue with continuing to use Windows 7 is that it won't be patched for any new viruses or security problems once it enters End of Life, and this leaves you extremely vulnerable to any emerging threats.
What's more, if a large number of people continue to use Windows 7 after the End of Life date, that could actually be a big incentive for malicious users to target viruses and other nasties at WIndows 7.
So, while Windows 7 will continue to work after January 14 2020, you should start planning to upgrade to Windows 10, or an alternative operating system, as soon as possible.
We can help you implement a number of solutions that will enable a smooth transition to a more modern operating system.
Contact us on: (01) 846 4200 to get started
Here's the minimum specification for Windows 10:
Processor: 1 gigahertz (GHz) or faster processor or SoC.
RAM: 1 gigabyte (GB) for 32-bit or 2 GB for 64-bit.
Hard disk space: 16 GB for 32-bit OS 20 GB for 64-bit OS.
Graphics card: DirectX 9 or later with WDDM 1.0 driver.
Display: 800 x 600 resolution
If your Windows 7 machine doesn't meet these specifications you won't be able to run Windows 10 – and even if your machine just meets the requirements, Windows 10 won't run that well. We'd recommend at least a 2GHz dual-core processor, 4GB of RAM (8GB ideally) and a 160GB hard drive for Windows 10 to run well.
One last thing – don't be tempted to save a bit of money and upgrade to Windows 8. Although it's more recent than Windows 7, it's not going to be too long before that version too enters its End of Life stage, so you're better off saving further hassle down the line by getting the newer (and let's be fair, better) Windows 10.
If you still using Windows 7, you would be wise to begin planning for its end of life date. Fingal Computers can assist you in that planning and help you create a schedule for the transition.
---
Contact us on: (01) 846 4200 to get started!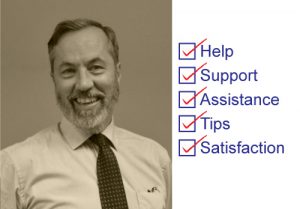 Beware – Windows 7 End of Life!